&nbsp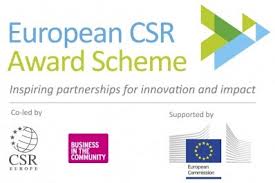 European CSR Award Scheme
Lead the way in Europe
Celebrate CSR excellence, innovation and sustainability
The new European CSR Award Scheme provides a unique opportunity to promote your CSR partnerships both nationally and on a European platform. Whether you are a SME partnering a single non-business organisations, or a large company working with multiple non-business organisations, we are keen to learn how your collaboration has created positive social and business change.
There are 2 categories in the National Award for this overall European CSR Award Scheme
Award 1
Partnerships involving small and medium-sized enterprises (SMEs) and at least one non-business organisation
Award 2
Partnerships involving larger companies and at least one non-business organisation
Entries are assessed by a panel of CSR independent practitioners from business and non-business organisations. The national winners from each category will be selected based on the positive impact their multistakeholder projects have brought to both society and business. Judges are looking for innovative and sustainable initiatives that can be replicated effectively.
Submissions to the European CSR Awards are free.
The consortium of partners will produce a Golden Book compiling the Award winning case studies and an impact analysis, supported by Alliance Boots."
5 reasons to apply

1 Gain recognition from your peers as a
leader in CSR
2 Increase your reputation and credibility at
National and European level
3 Showcase your organisation's innovation
and commitment to sustainability
4 Exchange 'best practice' and influence CSR
development through replication
5 Celebrate winning partnerships at
prestigious Award ceremonies
Winners will be celebrated at both a National CSR Award Ceremony, as well as at the overall European CSR Award Ceremony in Brussels in June 2013, organised by the European Commission.
At the European Ceremony, winners will be presented with an Award certificate, signed by a high level representative of the European Commission.
http://www.europeancsrawards.eu